"Spotlight on the Ulster County Regional Chamber of Commerce"
Each week Chamber President Ward Todd sits down with a member of the Ulster Chamber of Commerce to talk about their business or organization. From small Main Street businesses, to large corporations and even not-for-profit organizations, each has a story to tell about their success and the contribution they're making in the Ulster County Region.
Special thanks to the following Hudson Valley Radio Stations for donating their air time to allow the chamber to promote our members and the great work they're doing in our community.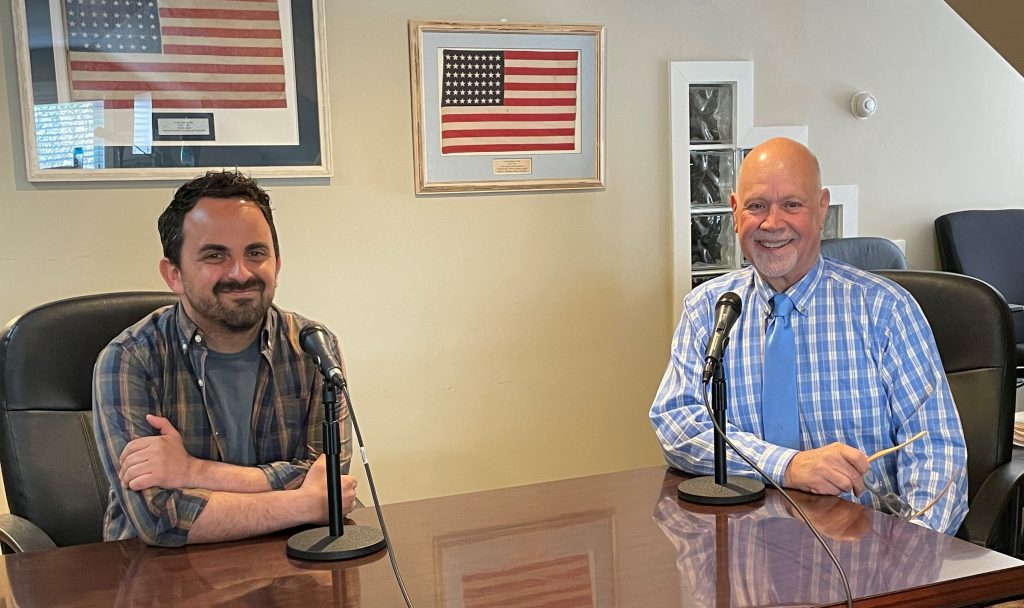 "Spotlight on the Ulster County Regional Chamber of Commerce" is streamed live on most stations' websites. Programs are then archived below:
July 9, 2023 - John Eickman (HITS Horse Shows)
July 2, 2023 - Bob Siracusano (Sawyer Motors)
June 25, 2023 - Su Marcy and Theresa Mulkins (United Way of Ulster County)
June 18, 2023 - Athena Fliakos (YWCA Ulster County)
June 11, 2023 - Lucia Romeo (Kia Romeo of Kingston)
June 4, 2023 - Cheryl Bowers (Rondout Savings Bank)
May 28, 2023 - Steve Miccio (People USA)
May 21, 2023 - Dave Hilliard (Catskill Mountain Railroad  Company)
May 14, 2023 - Nina Postupack and Taylor Bruck (The Matthewis Persen House)
May 7, 2023 - Jami Anson and Lori Anderson (Walkway Over the Hudson)
April 30, 2023 - Christian Smith (MAC Fitness)
April 23, 2023 - Tina Eckert and Meg Boyce (Alzheimer's Association Hudson Valley Chapter)
April 16, 2023 - Tom Struzzieri (BLACKBARN Hudson Valley) and Tommy Struzzieri (Alpha Win Hudson Valley Marathon at the Walkway Over the Hudson)
April 9, 2023 - David Juhren ( Center for Spectrum Services)
April 2, 2023 - Mike Coiffi (Dixon Roadside and Phoenicia Diner)
March 26, 2023 - Mary Joy Lu (Rail Explorers)
March 19, 2023 - Elliott Auerbach (Office of the State Comptroller)
March 12, 2023 - Neal Smoller (Village Apothecary Woodstock)
March 5, 2023 - Dan Whelan (Boys and Girls Club of Ulster County)
February 26, 2023 - Gina Garbonari and Alicia Hallam (Ulster County SPCA)
February 19, 2023 -  Amy Lenard (Ulster Literacy Association)
February 12, 2023 - Frank Guido Part II (Guido Restaurant Group)
February 5, 2023 - Frank Guido Part I (Guido Restaurant Group)
January 29, 2023 - Ruth Merenda (The Ashokan Center)
January 22, 2023 - David Drimer (Jewish Federation of Ulster County, Inc.)
January 15, 2023 - Ryan Naccarato (Hudson Valley Ambition)
January 1, 2023 - Mayor Steve Noble (City of Kingston)
January 8, 2023 - Dr. Michael Doyle (HealthAlliance Hospital, members of WMCHealth)
December 18, 2022 -  Frank Marquette (Theatre on the Road)
December 11, 2022 - Peggy Schwartz (Town & Country Liquor and Saugerties Chamber of Commerce)
December 4, 2022 - Christine Hein and Amy Burns (Junior League of Kingston)
November 27, 2022 - Jess Davis and Miriam Gibbons (Shop Small & WIN BIG! Facebook Contest)
November 20, 2022 - Julie Jordan and Nan Potter (Kingston Uptown Business Association - KUBA)
November 13, 2022 - Tim Weidemann (Ulster County Department of Economic Development)
November 6, 2022 - Michael Berg & Kerry Wolfeil (Family of Woodstock)
October 30, 2022 - Su Marcy and Theresa Mulkins (United Way of Ulster County)
October 23, 2022 - Dana Kuhns (Boy Scouts of America/Rip Van Winkle Council)
October 16, 2022 -  Anthony Mignone (Resource Center for Accessible Living ~ RCAL)
October 9, 2022 - Tommy Struzzieri and John Eickman (Alpha Win)
October 2, 2022 - John Burlingham (American Solutions for Business)
September 25, 2022 - David Leifer (David Leifer Photography)
September 18, 2022 - Josh Sommers (Winston Farm)
September 11, 2022 - Suzanne Cusack and Kari Willis ( Villa Veritas Foundation)
September 4, 2022 - Joe Concra (O Positive Festival)
August 28, 2022 - Stephen Blauweiss & Karen Berelowitz (Blauweiss Media)
August 21, 2022 - Kathy Stevens (Catskill Animal Sanctuary)
August 14, 2022 - Joe Defino (Hope Rocks Festival)
August 7, 2022 - Danielle Schuka (American Heart Association)
July 31, 2022 - Keith Bennett (Keith Bennett's Karate Academy)
July 24, 2022 - Maria Todaro (Phoenicia Festival of the Voice)
July 17, 2022 - Gary Newkirk (Ulster County Fair)
July 10, 2022 - Stephanie Kresser & Dr. Erin Hilgart (Mentor Me of Ulster County)
July 3, 2022 - Casey Farrell (Rail Explorers)
June 26, 2022 - Tony Marmo (Normann Staffing)
June 19, 2022 - Dan Arnoff (Arnoff Moving & Storage)
June 12, 2022 -  Tamara Murray (Emerson Resort & Spa)
June 5, 2022 - Lisa Berger (Ulster County Tourism)
May 29, 2022 - Susan Buckler & Jamey Wolff (Center for Spectrum Services)
May 22, 2022 - Ruth Unger Merenda (The Ashokan Center)
May 15, 2022 - Drew Frankel (Levon Helm Studios)
May 8, 2022 - Ingrid Kulick (Ulster Chamber Foundation)
May 1, 2022 - Sarah Litvin PhD (Reher Center for Immigrant Culture and History)
April 24, 2011 - Ian Scott (Aventura World)
April 17, 2022 - Martin Bruhn (Women's Woodstock Cycling Grand Prix)
April 10, 2022 - Perry Goldschein (Equitable Advisors)
April 3, 2022 - Frank Mulhern (Ellenville Central School District) & Ashley Knox (Go Beyond Greatness)
March 27, 2022 - Lisa Cline, Becky Sellinger & Jody Sterling (Hudson River Maritime Museum)
March 20, 2022 - Kevin Keaveny (The Hudson Valley National Center for Veteran Reintegration)
March 13, 2022 - Billy Knowles and Mark Berthiaume ( Volunteer Firemen's Hall & Museum of Kingston, NY)
March 6, 2022 - Matt Yerkes (Hudson Valley Sports Cards)
February 27, 2022 - Neil Smoller (Village Apothecary - Woodstock)
February 20, 2022 - Susan Hereth (YMCA Farm Project)
February 13, 2022 - Tim Hayes (Central Hudson)
February 6, 2021 - Assemblymember Kevin Cahill
January 30, 2022 - Michael Campbell (Mid-Hudson Valley Federal Credit Union)
January 23, 2022 - Lisa Berger (Ulster County Tourism)
January 16, 2022 - Dr. Alan Roberts (SUNY Ulster)
January 9, 2022 - Christine Hein (People's Place)
January 2, 2022 - John Murphy (Murphy Realty Group)
December 26, 2021 - Ed Ullmann (Wellness Rx Pharmacy)
December 19, 2021 - Mayor Steve Noble (The City of Kingston)
December 12, 2021 - Gina Carbonari & Alicia Hallam (Ulster County SPCA)
December 5, 2021 - Peggy Schwartz (Town & Country Liquors) Saugerties Holiday in the Village
November 28, 2021 - Bill Calderara (Ulster Savings Bank)
November 21, 2021 - Holly Snow & Kerry Dotson (MAC Fitness)
November 14, 2021 - Jess Davis & Miriam Gibbons (Shop Small & WIN BIG! Facebook Contest)
November 7, 2021 - Stacey Rein & Su Marcy (United Way of Ulster County)
October 31, 2021 - Paul Alley (Pestmaster Services)
October 24, 2021 - Michael Jubie (Headless Horseman Hayride & Haunted Houses)
October 17, 2021 - Harry Lipstein and Steve Bierfelt (Denizen Theatre)
October 10, 2021 - Dave Gagnon of Gagnon & Associates and Bob Willis of LHV Precast (God and Country Veterans Living History Event)
October 3, 2021 - Tommy Struzzieri and John Eickman (Alpha Win)
September 26, 2021 - Pari Farood (Miles of Hope Breast Cancer Foundation)
September 19, 2021 - Les Lombardi and Anna Brett (Ulster County Italian American Foundation)
September 12, 2021- John Naccarato (Naccarato Insurance)
September 5, 2021 - Stephen Blauweiss and Karen Berelowitz (Blauweiss Media)
August 30, 2021 - Lauren Berg (Hudson River Maritime Museum)
August 22, 2021 - Joe Concra (O+ Festival)
August 15, 2021 - Ingrid Kulick (Ulster County Regional Chamber of Commerce Foundation)
August 8, 2021 - Michael Babcock (Hudson Valley Wine & Food Festival)
August 1, 2021 - Bill Forte (Kingston Veteran's Association)
July 25, 2021 - Maria Todaro (Phoenicia International Festival of the Voice)
July 18, 2021 - Jason Harucki (NCG Cinema at the Hudson Valley Mall)
July 11, 2021 - Nina Postupack (Ulster County Clerk) & Taylor Bruck (Ulster County Archivist & City of Kingston Historian)
July 4, 2021 - Mayor Steve Noble (City of Kingston)
June 27, 2021 - Kevin Keaveny (The Hudson Valley National Center for Veteran Reintegration)
June 20, 2021 - Angela Trento-Sommella (Astor Services for Children and Families)
June 13, 2021 - Max Kimlin (Kimlin Energy Services)
June 6, 2021 - Jeff Senterman (Congressman Maurice D. Hinchey Catskills Visitor Center)
May 30, 2021 - Dennis Morgan (Samadhi)
May 23, 2021 - Aaron Rice and Samantha Salazar (Rice Plumbing & Heating)
May 16, 2021 - Lori McCabe and Kelly Wright (The Arc Mid-Hudson)
May 9, 2021 - David Bowd (Hutton Brickyards - Salt Hotels)
May 2, 2021 - John Kelder (Kelder's Farm)
April 25, 2021 - Kevin Hinchey (Saugerties Stallions)
April 18, 2021 - Alex Ibarra (Hudson River Technologies)
April 11, 2021 - Bud Sorbello (Wood'n Wheel Family Fun Center)
April 4, 2021 - Joe Concra (O Positive Festival)
March 28, 2021 - Dan Arnoff (Arnoff Moving & Storage)
March 21, 2021 - Jess Davis (Ulster Eateries United Facebook Group)
March 14, 2021 - Neal Smoller (Village Apothecary)
March 7, 2021 - Mike Offner (Pine Ridge Dude Ranch)
February 28, 2021 - Garry Kvistad (Woodstock Chimes)
February 21,2021 - Ingrid Kulick (Chamber Foundation/Leadership Ulster)
February 14, 2021 - Luke Burbach (Wiltwyck Golf Club)
February 7, 2021 - Stephen Blauweiss & Karen Berelowitz (Blauweiss Media)
January 31, 2021 - Matthew Tallarico (Your CBD Store Kingston)
January 24, 2021 - Harry Lipstein (Denizen Theatre)
January 17, 2021 - Joe Deegan (SVN Deegan-Collins Commercial Realty)
January 10, 2021 - Pat Ryan (Ulster County Executive)
January 3, 2021 - Dave Gagnon (Gagnon & Associates) & John Burlingham (American Solutions for Business)

December 27, 2020 - Suzanne Cusack, President & Patrick Pillsworth (Villa Veritas Foundation, Inc.)
December 20, 2020 - Jay Rifenbary (Rifenbary Training & Development)
December 13, 2020 - Stacey Rein ( United Way of Ulster County)
December 6, 2020 - Bradley Cummings (UHY LLP)
November 29, 2020 - Jess Davis and Miriam Gibbons (Shop Small Week)
November 22, 2020 - Dr. Michael Doyle (HealthAlliance Hospitals, a Member of WMCHealth)
November 15, 2020 - Dana Kuhns ( Boy Scouts of America/Rip Van Winkle Council)
November 8, 2020 - Miriam Gibbons (PuroClean Professional Restoration)
November 1, 2020 - Tina Eckert (Alzheimer's Association of the Hudson Valley)
October 25, 2020 - Pari Farood (Miles of Hope Breast Cancer Foundation)
October 18, 2020 - Michael Jubie (Headless Horseman Hayrides & Haunted Houses)
October 11, 2020 - Les Lombardi (Ulster County Italian American Foundation)
October 4, 2020 - Barbara Cohen, John Fischer & Glenn Grubard (Jewish Federation of Ulster County/Fall for Arts)
September 27, 2020 - Richard Cattabiani & Bill Calderara (Kingston Rotary Club)
September 20, 2020 - Steve Klein (Kingston Kiwanis Club)
September 13, 2020- Dan Whalen (Boys and Girls Clubs of Ulster County)
September 6, 2020 - L. Todd Diorio (Laborers' Int. Union of NA #17)
August 30, 2020 - Greg Chorvas (Cantine Veterans Complex, Town of Saugerties)
August 23, 2020 - Brent Felker (Arts Society of Kingston ~ ASK)
August 16, 2020 - Gina Carbonari and Alicia Hallam (Ulster County SPCA)
August 9, 2020 - Rose Woodworth (Ulster County Industrial Development Agency)
August 2, 2020 - Dr. Paul Padalino (Kingston City School District)
July 26, 2020 - Kathy Stevens (Catskill Animal Sanctuary)
July 19, 2020 - Bryant "Drew" Andrews (Center for Creative Education)
July 12, 2020 - Rick Remsnyder (Ulster County Tourism)
July 5, 2020 - Aaron Robinson (Senate House)
June 28, 2020 - Rose Wisneski and Jess Schulte (Kingston High School Class of 2020 Senior Class Advisors)
June 21,2020 - Maxanne Resnick (Woodstock Land Conservancy)
June 14, 2020 - Octavia Ford (Girl Scouts Heart of Hudson)
June 7, 2020 - Lisa Cline (Hudson River Maritime Museum)
May 31, 2020 - Anthony Mignone (Resource For Accessible Living ~ RCAL)
May 24, 2020 - Dr. Alan Roberts (SUNY Ulster)
May 17, 2020 - Christine Hein (People's Place)
May 10, 2020 - Lisa Zwerdling (Port Ewen Diner) and Tamara Murray (Emerson Resort & Spa/Woodnotes Grille)
May 3, 2020 - Pat Ryan, UC Executive and Steve Bulger, Regional Director of SBA (COVID-19 Updates)
April 26, 2020 - Lieutenant Alexander Vargas and Lieutenant Olga Vargas (Kingston Salvation Army)
April 19, 2020 - Dan Ahouse (Stockade Strategies)
April 12, 2020 - Lisa Berger (Ulster County Office of Economic Development)
April 5, 2020 - Stacey Rein (United Way of Ulster County)
March 29, 2020 - Maria Cabrera (Maria Cabrera Alterations & Tailoring)
March 22, 2020 -  Arnaldo Sehwerert (Mid-Hudson Small Business Development Center)
March 15, 2020 - Dr. Marc Tack, Infectious Disease Specialist (COVID-19)
March 8, 2020 - Michael Cioffi (Phoenicia Diner & Dixon Roadside)
March 1, 2020 - Stephen Blauweiss (Blauweiss Media)
February 23, 2020 - Terry McCann (T. McCann Band)
February 16, 2020 - Sal Guido (Mariner's Harbor)
February 9, 2020 - Wayne Schaeffer and Alethea Shuman (Usheco, Inc.)
February 2, 2020 - Clayton Van Kleeck (Van Kleeck's Tire)
January 26, 2020 - Alex Ibarra (Hudson River Technologies)
January 19, 2020 - Heidi Kirschner and Kristyn Keller (YMCA of Kingston and Ulster County)
January 12, 2020 - Jay Rifenbary (Rifenbary Training & Development)
January 5, 2020 - Cynthia Bell and Jennifer Clark (League of Women Voters of the Mid-Hudson Region)
December 29, 2019 - Mayor Steve Noble (City of Kingston)
December 22, 2019 - Brian Ginty (Hudson Valley Financial Services)
December 15, 2019 - Carol Ricken and Jess Davis (Ulster County Regional Chamber of Commerce)
December 8, 2019 - Steve Mazzei and Miriam Gibbons (Kingston Kiwanis Club)
December 1, 2019 - Julie Jordan (Herzog's Home & Paint Centers & Kingston Plaza)
November 24, 2019 - Louis Werbalowsky (LTC Planning Group of NY)
November 17, 2019 - Maria Cabrera (Maria Cabrera Alterations & Tailoring)
November 10, 2019 - Bernadette Rexford (Benedictine Health Foundation)
November 3, 2019 - Casandra Beam (Ulster Literacy Association)
October 27, 2019 - Barbara Cohen (23rd Annual Fall for Art Fundraiser)
October 20, 2019 - Ray Braun and Ralph Basso (Boy Scouts of America/Rip Van Winkle Council)
October 13, 2019 - Christina Krzywonos and Olivia Grimsland (Kingston Athletics)
October 6, 2019 - Bob Willis, Daniel Gagnon & Dave Gagnon (God & Country Veterans Living History Event)
September 29, 2019 - Tony Marmo and Anna Brett (Ulster County Italian-American Festival)
September 22, 2019 - Geoff Brault (Walkway Over The Hudson)
September 15, 2019 - Lisa Cline and Bob Burhans (Hudson River Maritime Museum)
September 8, 2019 - Jennifer Lafalce and Susan Diamond (Women Empowering Women to Grow Their Businesses)
September 1, 2019 - Andrea Ellison (Ellison Acupuncture & Therapeutic Massage)
August 25, 2019 - Marty Klein (Why Can't We Serve)
August 18, 2019 - Keith Bennett (AMPM Homecare & Companion & Home Health Care & Companion Agency
August 11, 2019 - Norman Greig (Greig Farm)
August 4, 2019 - Samantha Jones (Hudson Valley Improv)
July 28, 2019 - Robert Benincasa "Benny the Bug Man" (ABC Pest Control)
July 21, 2019 - Ingrid Kulick, Tara Dickett & Michael Campbell (Leadership Ulster)
July 14, 2019 - Melanie George (Lumberyard Center for Film and Performing Arts)
July 7, 2019 - Marie Anderson, Mary Lahey & Bryan Smith (John A. Coleman High School)
June 30, 2019 - Michael Babcock (WineRacks.com, Hudson Valley Wine & Food Festival)
June 23, 2019 - Tamara Murray (Emerson Resort & Spa)
June 16, 2019 - John Carroll (John Carroll Spiritual Counseling & Healing)
June 9, 2019 - Steve Ferri (The Den of Marbletown)
June 2, 2019 - Kevin Keaveny (Hudson Valley Center for Veteran Reintegration)
May 26, 2019 - Kitt Potter (Maverick Concerts)
May 19, 2019 - Rick Remsnyder and Fran DePetrillo-Savoca (Ulster County Tourism)
May 12, 2019 - Air Rhodes (Husdon Valley Seed)
May 5, 2019 - Pat Lieske (Markertek)
April 28, 2019 - Lisa Berger & Keith Bennett (Hudson Valley Veteran Job Fair)
April 21, 2019 - Nicole Fuoco (Young Ulster Professionals - YUP)
April 14, 2019 - Don & Judy Tallerman (Senate Garage)
April 7, 2019 - David Juhren & Melissa Signore (Center for Spectrum Services)
March 31, 2019 - Michael Liguori (Rhinebeck Bank)
March 24, 2019 - Christine Hein (People's Place)
March 17, 2019 - Ben Williamson, Brittany Proia and Harry Lipstein (Denizen Theatre)
March 10, 2019 - Pari Forood (Miles of Hope Breast Cancer Foundation)
March 3, 2019 - Anthony Marinaccio (AM Fit)
February 24, 2019 - Mary Joy Lu (Rail Explorers)
February 17, 2019 - Heidi Kirschner & Kristyn Keller (YMCA of Kingston and Ulster County)
February 10, 2019 - Sal Guido (Mariner's Harbor)
February 3, 2019 - Tribute to Anita Williams Peck (Anita Williams Peck Public Speaking Contest)
January 27, 2019 - Michael Berg and Kelly Warringer (Family of Woodstock)
January 20, 2019 - Ingrid Kulick (Ulster County Regional Chamber of Commerce Foundation)
January 13, 2019 - Dr. Alan Roberts (SUNY Ulster)
January 6, 2019 - Su Marcy (United Way of Ulster County)