The Ulster County Regional Chamber of Commerce dates back to January of 1903. At that time, a group of business owners who belonged to an organization called the Business Men of the Rondout, met to form a "permanent" organization.
They decided the new organization would be called The Chamber of Commerce of the City of Kingston. Officers elected at this meeting were: I.M. Weiner, President; P.A. Canfield, 1st VP; W.F. Rafferty, 2nd VP; J.J. Johnson, Treasurer and E.F. Mac Fadden, Secretary. Other notable business leaders at that first meeting were E. Hiltebrant, H.E. Wieber, H.C. Connelly, Jr., John W. Heaney, along with Messrs Alliger, Stern, M.B. Myers and Bacharach. Annual dues were set at $1! Among the first order of business was to find a location for the Fuller Shirt Factory. Organization records beyond this time frame became sketchy at best.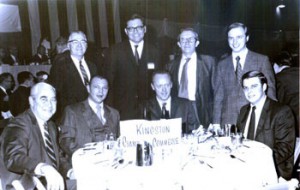 In the early sixties the name was changed to the Kingston Area Chamber of Commerce to reflect its growing role. In May of 1971 the organization incorporated as the Chamber of Commerce of Ulster County. Then  in July 2010, in order to better represent our growing membership in the region we became the Ulster County Regional Chamber of Commerce. The Chamber remains today the largest and most influential voice of business in the region. During this time the Chamber has had only four CEO's. The late Albert Kurdt served for 17 years, Peter Allen 4 years, Len Cane was at the helm for 34 years and, in 2003, Ward Todd became President and CEO.
The Ulster County Regional Chamber has been an integral part of a number of exciting initiatives over the past several decades. The Chamber was instrumental in creating both the Ulster County Development Corp and the Industrial Development Agency (UCDC & IDA) with the County Legislature. The Chamber also played a major role in bringing Cornell Cooperative Extension to the County. Working with Ulster County Community College brought about the establishment of the Service Corps of Retired Executives known as SCORE and, was a part in growing the Ulster County Fair. For some ten years the Chamber was heavily involved in attracting and hosting the Miss New York State Pageant.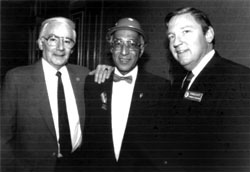 Another significant Chamber program is the Ulster Leadership Development Institute, creating a cadre of leaders for our nonprofit agencies. More than 300 graduates have successfully completed this series of eight month classes. This, in part, is the Ulster County Regional Chamber of Commerce. It is a vital, growing and constantly adjusting organization representing all facets of business and community. There is much more to come!
Len Cane, President & CEO (retired)