Chamber Travel Opportunities
You can enjoy travel at group rate discount. The Chamber partners with Chamber Members in the travel industry to create unique travel opportunities worldwide.
Egypt: The Land of the Pharaohs
The Pyramids ~ Luxor ~ Aswan ~ Valley of the Kings ~ Cairo ~ Nile Cruise
November 3 - 12, 2023
10 days, 8 nights including hotels, cruise, meals, day trips, and airfare from New York JFK
Only $3,449 including land & air!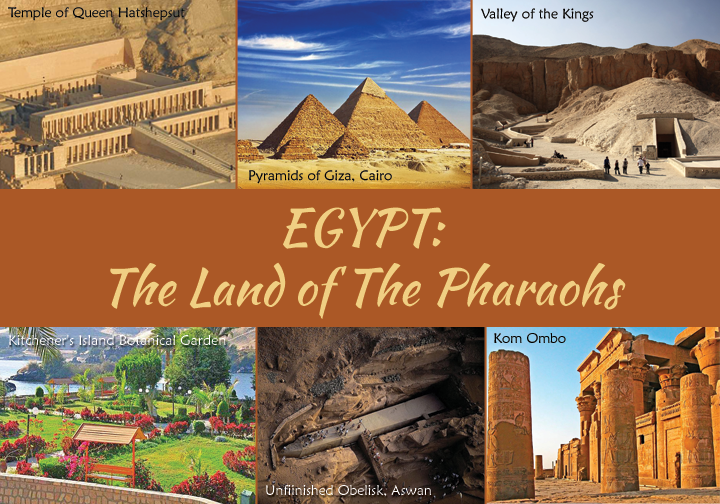 We invite you to join us on our journey to Egypt, a nation of biblical proportions and epic history. Experience the fascinating stories of the ancient world as you tour Cairo's medieval mosques, the gargantuan pyramids of Giza, grandiose Karnak and the Luxor temples, treasures of Tutankhamen's tomb, and the Valley of the Kings. In the company of an expert Egyptologist guide, cruise the mighty Nile River aboard a first-class vessel and spend 4 nights at a first class hotel in cosmopolitan Cairo.
EGYPT INFORMATIONAL MEETING
Thursday, February 23, 20232 | 5:30 - 7:00 pm
Holiday Inn Express & Suites
1835 Ulster Ave, Lake Katrine, NY
For more trip details and trip reservations contact:
Carol Ricken at (845) 338-5100 ext. 5, or Cell (845) 417-7143
or email Carol@UlsterChamber.org
Reservations can also be made on our online booking engine
www.aventuraworld.com/booking. The group booking code is: THEXCK
This Trip has Been SOLD OUT
March 20 - 28, 2023
9 days, 7 nights including deluxe hotels, meals, luxury transport, tour guides, and airfare from New York JFK
Only $3,149 including land & air!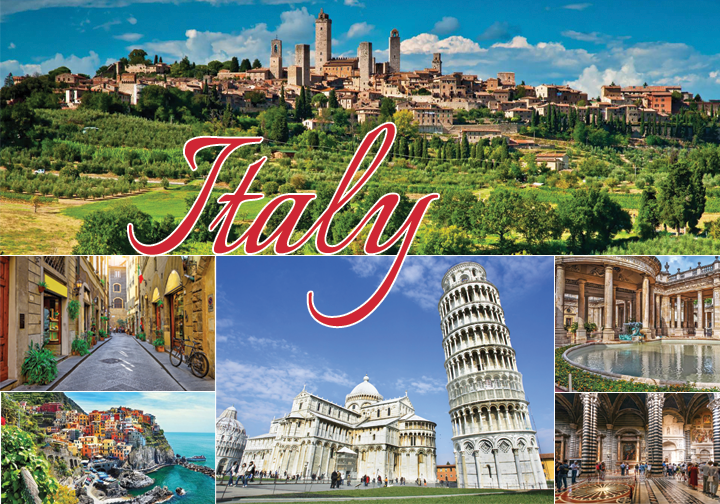 Leave everyday life behind and escape to Tuscany! Known for its beautiful landscapes, its rich artistic legacy, and vast influence on high culture, Tuscany is widely regarded as the true birthplace of the Italian Renaissance and has been home to some of the most influential people in the history of art and science. Visitors to Tuscany come for many reasons. Many come in search of fine art, others to explore the extraordinary countryside with charming medieval hill towns and sweeping hillsides full of vineyards. Join us as we explore the endless opportunities that Tuscany has to offer.
Greece - A Land of Gods and Heros
Jet Lag
The Olive Jar
By Carol Olsen LaMonda
November 20, 2021
Good morning, or is it night?  I am writing this column in the dark (Is it morning or night?) when I woke up, wide awake at 2:30 am Shokan time.  I had gotten seven hours of sleep since I fell asleep at 7:30 pm right after Jeopardy.
On Tuesday, or Wednesday Greek time, I traveled home from an eleven-day vacation with the Ulster County Regional Chamber of Commerce.  The journey home took thirty hours from Santorini to Athens to New York when you counted the three-hour wait for our luggage because the cargo cart got stuck in the belly of the plane. Then throw in a six hour difference in time and an hour lost to the universe for Daylight Savings' Time.
Time is relative, but at the moment, I have to consult a clock and a calendar to place myself in time and space.  However, it was all worth it.
We toured Athens where we saw the Olympic Stadium, climbed up to the Temple of Athena on the Acropolis, saw the changing of the guard at the Tomb of the Unknown Soldier at the Parliament building, visited the Museum of Athens, sat in the oldest theater in Greece, and shopped. In Delphi we again climbed the site of the Oracle and the Treasury of Athens and visited that museum. In Corinth we visited yet another museum and wandered through the ruins of the original agora. We had a lovely lunch alongside the Corinth Canal, a waterway that crosses the narrow isthmus of Corinth to link the Gulf of Corinth to the Saronic Gulf of the Aegean Sea. As such, the canal separates the Greek mainland from the Peloponnese, turning it into an island. The Canal is only 25 meters wide and insane people bungie jump it or try to jump it on motorcycles!
We were treated to a sumptuous buffet three times each day of Greek dishes like Moussaka, Pastichio, Seafood, Stuffed Grape Leaves and the iconic Greek salads with Feta and Oregano. We visited an Olive Oil Farm and Factory and tasted three wines at the famous Santorini Wine Factory.
Another day was the site of Olympus and my roommate and I decided to not endure yet another six hour bus ride. Instead we sat at our home base, Kinetta Beach Resort, and swam in the Aegean Sea which was just steps from our patio and open beach bar. The beach was not sandy but made of little smooth pebbles, and the water, which was lukewarm and crystal clear, is so salty that it is impossible to sink.  Floating there looking at the Greek Islands in the distance was pure heaven.
At Santorini we toured the entire volcanic island, climbed a castle, climbed a monastery  shopped, and ate at two restaurants that have me salivating in their memory. I even tried the grilled octopus.  When in Rome...or Greece I should say.
So a little jet lag will be forgotten soon; they say one day recovery for each hour of time difference, but the memories of the trip will stay with me forever. Climb stone stairs, eat, shop, swim, visit museum….repeat each day.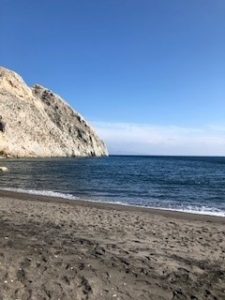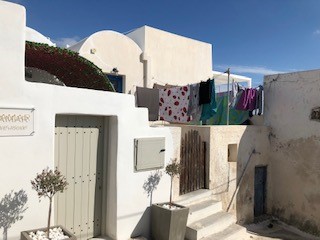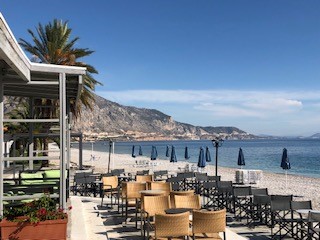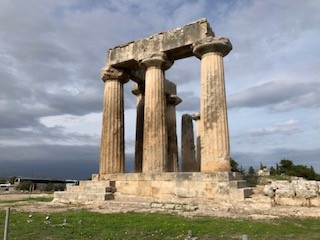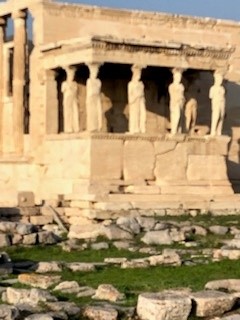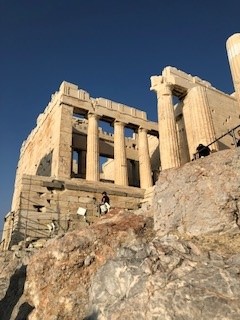 2019 Egypt Group Travel Trip
2019 Alps Group Travel Trip
2018 China Group Travel Trip
2018 Spain and the Costa Del Sol Group Travel Trip
2017 National Parks Group Travel Trip