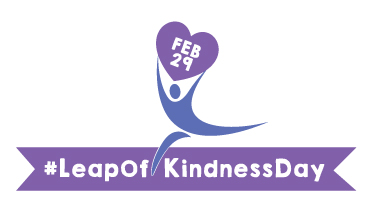 Here's how our Members responded:
Adams Fairacre Farms  is celebrating Leap of Kindness Day on February 29th by doing a "fill the Adams Van" with Pet food and pet supplies for the Ulster County SPCA. The event will take place in our parking lot from 10:00 – 4:00 pm.
Bank of Greene County will be donating personal hygiene items to People's Place.
BEST WESTERN PLUS Kingston will be collecting items for the Ulster County SPCA such as Kitten Wet Food – Grain-Free Pate preferred, Kitten Dry Food, KMR Powder for Kittens, Nursing Bottles for Baby Animals, Hand Feeding Syringes, Non-Clumping, Unscented Cat Litter, Puppy Training Pads, Hypoallergenic Pet Wipes, Cat Toys, Petroleum Jelly, Digital Pet Scale for Small Kittens, Pet Bed with Microwave Heating Pad, A Foldable Pet Playpen.
Daily Freeman will be donating personal hygiene items to the People's Place.
Gagnon & Associates, CPA's is teaming up with Adams Fairacre Farms to purchase 30 hams for Community Action in Ulster County.
Maria Cabrera Alterations & Tailoring - will be collecting personal care items at the shop for People's Place.
Pine Street Dental will be donating four cases of toothpaste to Catholic Charities of Orange, Sullivan & Ulster Counties.
Rondout Savings Bank will be collecting snack donations and arts & craft supplies for the YMCA of Kingston & Ulster County's Starfish Summer Camp.
Ulster County Sheriffs will be collecting items to donate to the Ulster County SPCA.
Ulster Savings Bank will be participating in the leap of Kindness day by donating 25 movie tickets to Gateway Community Industries and 10 NCG Movie theater gift cards to Deveroux Advanced Behavioral Health.
UnitedHealth Group is planning on supporting #LeapofKindnessDay by helping as many organizations as possible!
First, we are asking our entire site for any donations they can provide, for all of the organizations that need help. We will collect the items throughout the month of February and deliver to the appropriate organizations. Teams are also lining up their 2020 volunteer activities by donating their time to the various organizations in need.
Some of UnitedHealth Group teams have decided to do joint activities and donations as listed below:
Donating items and offering their 2020 volunteer hours specifically to Ashokan Equestrian Center for Autistic Children Inc.
Donating sneakers and other items to The Children's Home of Kingston
Volunteering at YWCA in 2020
Collecting funds for Catskill Animal Sanctuary
Monetary donation for Resource Center for Accessible Living
Donations for People's Place
UnitedHealth Group will also host an on-site blood drive on March 20th to support the American Red Cross. 80-90 employees are expected to donate!
Young Ulster Professionals (YUP) - Will be collecting donations of basketballs, soccer balls, footballs and track/field equipment for the Children's Home of Kingston.
Many of our not-for-profits still have needs, so please help them:
American Red Cross Mid Hudson Valley Chapter - The American Red Cross has a critical need for blood donors of all blood types – especially type O. You can help support the American Red Cross by scheduling your blood appointment using our Blood Donor App, visit RedCrossBlood.org, or calling 1-800-733-2767. Contact: Kelly Formoso, American Red Cross Mid Hudson Valley Chapter, 518-618-5731, kelly.formoso@redcross.org.
American Heart Association - Any donation would be greatly appreciated to help us in our mission. Join us or donate to the Heart Walk & 5K Fun Run on April 18, 2020. Contact: Danielle Schuka at Danielle.schuka@heart.org 845-867-5379.
Arts Society of Kingston (ASK) - We are looking to go plastic free and purchase reusable containers so monetary donations would be greatly appreciated. Contact Brent Felker, 845-338-0333, brent@askforarts.org.
Ashokan Equestrian Center for Autistic Children Inc. - We are continuously in need of good quality hay, grain, horse treats, pony-blankets, stall bedding, etc. We LOVE gift cards from any farm/animal supply stores! Our goal this year is expand our paddocks with strong, wooden rail fencing, and dream of a new barn. Please review our mission @ AshokanEquestrianCenter.org or contact Debra Ann Romano @ 845-657-6076.
Astor Services for Children & Families - Astor's Residential Programs need an upgraded "Family Space" where parents/guardians are able to visit their children to play, reconnect and plan for their future. We have a list of items needed to create such a space that includes games, toys, books, etc. Please visit www.astorservices.org or contact Richmond Arce rarce@astorservices.org 845-871-1116.
Boys & Girls Clubs of Ulster County - We are looking for donations that are technology oriented. Ideally laptops and ipad/tablets are needed. We are focused on providing more opportunities for success for our members. Many of our kids do not have access to internet at home. When they are at the club it may be their only opportunity to complete assignments, access distance learning programs or fill out college and job applications. Also, we have started technology based programs for our teens. These programs are about getting our youth comfortable with technology and build skills that can carryover to jobs that are available in our community.
Catholic Charities of Orange, Sullivan & Ulster Counties - Catholic Charities has a client choice food pantry with a personal care item section. For our #LeapofKindnessDay we would encourage donations of food, shampoo, deodorant, toothbrush, toothpaste, etc. Contact Dominique Wallace-Mills 845-340-9170 x3000, Dominique.Mills@cccsos.org.
Catskill Animal Sanctuary - Taking care of our animals and their environment is always a top priority so we could really use six (6) corn husk brooms, ten (10) manure rakes and six (6) heavy-duty garden rakes. We could also use gift cards from any farm/animal supply stores. Contact: Kathy Stevens, 914-388-4984, kathy@casanctuary.org.
Center for Spectrum Services - We would appreciate Silent Auction donations for our upcoming Fundraiser on March 27th. Businesses or individuals can donate gift cards or gift certificates to local restaurants or events, or put together a themed gift basket of fun items. Bottles of wine or spirits always work, too. The school is closed on Saturdays, but drop off donations can be made on Friday the 28th, or during the week. Contact David Juhren at djuhren@centerforspectrumservices.org, 845-336-2616 Ext. 165.
The Children's Home of Kingston - The Children's Home of Kingston welcomes donations for boys ages 12-18 of NEW clothing items, especially coats and sneakers, and donations of new sporting goods items (basketballs, soccer balls, footballs, etc.). We could also use NEW books, art supplies or board games (sorry, no used items can be accepted) We would also welcome volunteers, but only during weekday business hours. Contact Eric Houghtaling, 845-331-1448, ehoughtaling@chkingston.org.
Community Action in Ulster County - We would like people to know that Community Action in Ulster County is in need of hams for Easter. Contact: Suzy Hinchey, Outreach Program Director, 845-338-8750 x105, shinchey@uccac.com.
The Cornell Creative Arts Center is an all inclusive art center that is opening early spring 2020 to the general community and also to agencies that support people with Intellectual and Developmental Disabilities. We are in need of unused art supplies- canvases, paintbrushes, acrylic paints, colored pencils, artist pads & paper, watercolor paints. Contact: Lori McCabe, 845-768-5067, lori.mccabe@ArcMH.org
DENIZEN Theatre - The DENIZEN Theatre is a 501(c)(3) not-for-profit new theater in New Paltz NY We are located in SUNY University Village that has close to 8,000 students. We believe live theatre helps raise empathy in the world. We offer a $5 student ticket to any show, anytime. Every $23 you donate will help support the $5 student ticket. Contact: Harry Lipstein, 845-303-4036, Harry@denizentheatre.com.
Devereux Advanced Behavioral Health - We are going to focus on February being a month of kindness in which we will participate in several different types of challenges, etc. which will result in the winners receiving prizes.  We are requesting – 10 lyceum theatre gift cards / 10 NCG Movie Theatre in Kingston gift cards /Amazon gift cards to purchase crafts for our individuals to make and deliver throughout the month when we deliver meals on wheels. Gym memberships or gym discounts (YMCA) for our folks living in the community who are focusing on their health. Free cooking classes for our folks living in the community who are trying to be more independent and need to learn cooking skills. Contact: Marcella Stabile, 845-758-8959, mstabile@devereux.org.
Gateway Community Industries - We serve so many people that rarely, if ever, get a chance to participate in community activities that many of us take for granted, due to the economic circumstance brought on by their disability. We would love donations like, 10 restaurant coupons in a group, 30 bowling alley lane fees, 25 movie tickets, gym passes for a day, anything like that so we could take groups of folks to various outings. Contact: Stephanie Turco, 845-331-1261, sturco@ghv.org.
HealthAlliance Ahead - Our Hospital. Advancing Care. Here. - You and your family will have access to HealthAlliance Hospital's new state-of-the-art facility on our Mary's Ave Campus. HealthAlliance Ahead, our fundraising campaign, needs the support of individuals and organizations throughout Ulster County. Contact Foundation@hahv.org or 845-334-3160
Hudson River Maritime Museum - The Hudson River Maritime Museum is seeking financial support for YouthBoat, a free after school boat building program for area teens designed to empower youth, and for scholarships for our Sailing & Rowing School's youth programs. We are currently recruiting volunteers for our education programs and boat shop. Contact: Meg Clark mclark@hrmm.org.
Jewish Family Services of Ulster County (JFS) - is asking for donations to help support the elder population of our County through: Family Care Givers We support family care givers by providing quality and compassionate non-denominational social services to the residents of Ulster County through free support groups, crisis intervention, and educational programs. Holocaust survivors who need support with Case Management, help paying for their medication that is not covered by Medicare and/or Medicaid and provide assistance to their families. For more information contact our office at 845-338-2980 or our website www.jfs.ulster.org.
Jewish Federation of Ulster County - Seeking financial support for its programs including efforts to fight anti-Semitism and all other forms of discrimination in Ulster County; PJ Library, which provides free children's books to Ulster County families; and scholarships to assist graduating high school seniors. Contact Jen Dragon, 845-338-8131, info@ucjf.org.
Kiwanis Club of Kingston - Our Kamp Kiwanis is in desperate need of children's outdoors clothing, sun protection and bathing clothes such as: bathing suits, sunscreen, personal flotation devices, towels, goggles, flip-flops, bug spray, pool toys and water coolers. Our club is organizing an internal drive for delivery in May and during our Mid Winter convention. Contact: Stephen Mazzei, 845 345 8263, smazzei@hvc.rr.com
League of Women Voters of the Mid-Hudson Region - We are in need of monetary donations for printing services of business cards, marketing materials, stationery and brochures. Contact: Cynthia Bell at 845-235-5410.
Prostate Cancer 101 - We constantly strive to reach those who need to be educated about prostate cancer. What we need are monetary donations or grants to help us continue to further reach those newly diagnosed. No amount is too small and will be utilized carefully. Contact: Diane Sutkowski, President/Treasurer (845) 331-7241.
People's Place - Inside the People's Place Food Pantry is a Personal Care Closet. This offers hygiene care items such as toothpaste, deodorant, shampoo, body soap and laundry detergent to all Food Pantry visitors. On any open day of operation as many as 95 households can be helped in the Food Pantry. Donations of personal care items is in great demand & appreciated. Contact: Christine Hein, 845-338-4030, director@peoplesplaceuc.org.
Resource Center for Accessible Living - We run a loan closet for durable medical equipment this allows people who do not have adequate health insurance to be able to afford Wheel Chairs, Walkers, Shower transfer chairs and many other items.  We provide a very low cost alternative.  We are seeking funds to bolster our inventory. Contact: Anthony Mignone, amignone@rcal.org, 845-331-0541.
Ulster County Chamber of Commerce Foundation - The Chamber Foundation hosts the Ulster Leadership Celebration in June for which we gladly receive donations for our silent and live auction. Financial contributions to our Leadership Ulster Scholarship Fund allow local nonprofits to send promising leaders to the nine-month leadership development program. Contact Ingrid Kulick, 845-338-5100, Ingrid@ulsterchamber.org.
Ulster County SPCA - The UCSPCA has a multitude of projects ongoing requiring volunteer assistance with cleaning, organizing, painting, or minor, general construction.  Please contact the Volunteer Coordinator, 845-331-5377 x215 or volunteer@ucspca.org.
Ulster Habitat/the Habitat ReStore - We are in need of donations. You can drop off your gently used furniture, housewares, home decor items and building materials to our ReStore at 406 Route 28, or call for a pickup,  (845) 853-7499.  If you'd like to work with your hands, call to volunteer on our build site, (845) 340-0907. (Must be over 18 to volunteer at the construction site)  All donations and volunteers support our affordable housing program, right here in Ulster County!
Ulster YouthBuild (Kingston Area YouthBuild) – YouthBuild serves out-of-school low income young people between the ages of 16-24 with educational preparation for taking the HSE-TASC, comprehensive job training, full-time case management, mental health substance abuse counseling, life skills & leadership development, mentoring, and community service. Many of the students in our program have various obstacles to overcome. We would appreciate donations for the students such as personal care items, new work boots and/or gift cards. We are also looking for apprenticeships, internships and/or job placement opportunities for graduates. The civic engagement component of the program includes community service volunteering so if anyone has a need please contact our office to see if we can help. Joan Keating, Program Manager at 845-331-2381 or ymcayb.keating@gmail.com.
Volunteer Firemen's Hall and Museum of Kingston - Our top need is monetary donations which will allow us to purchase items such as Children's Fire Hats, T-Shirts, Patches, Advertising Media, New Banner for Muster, as well as help with General Operation and maintenance of the museum. Our next need is active volunteers to work at the Museum. The volunteers would be participating in: Working in the Museum when open, Clean up of the Museum, Participating in outside activities like St. Patrick's Day Parade and other parades, Maintaining the Fire Engines, Grant writing, Marketing, Preparations for the Muster and the activities at the Muster (working the hot dog table, helping with silent auction, etc.).
YMCA of Kingston & Ulster County - Our Starfish Summer Camp is a learning loss prevention program serving Ulster County - we need snack donations all summer long and arts & craft supplies. Our Y community basketball leagues need basketballs and our Y summer Camp Seewackamano, in Shokan, is in need of a weed wacker and a leaf blower. Donations also needed for summer camp scholarships! Contact: Noelle Schmidt, 845-338-3810 or nschmidt@ymcaulster.org.
YWCA Ulster County - We would love it if we can get help sanding the floor in the controller's office or shredding files and documents. We also need help carrying archived files to our upstairs storage room. Contact: Susan Mack 845-338-6844 x106, smack@ywcaulstercounty.org.